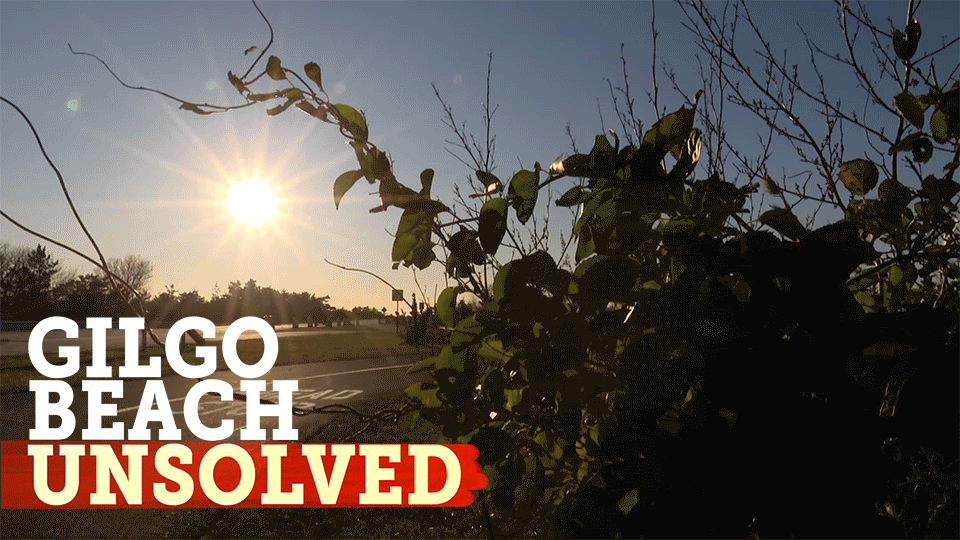 An unsolved case spanning decades has led to multiple questions, few answers - and no official suspects. What started as the discovery of human remains along Ocean Parkway 10 years ago has transformed into a sprawling, tragic case impacting nearly a dozen families in multiple states. News 12 examines the evidence, the investigation and the human toll of the Gilgo Beach serial killer case.

WATCH: Gilgo Beach: Unsolved - Full Documentary




THE BEGINNING



The case that would eventually be known as the 'Long Island Serial Killer Case' or the 'Gilgo Serial Killer Case' began 24 years ago - April 20, 1996 - as two brothers walked along a Fire Island beach.

That's when they found a bag with a woman's dismembered legs inside on Blue Point Beach in Davis Park.


Archive Video: Two brothers discover human remains washed up Blue Point Beach (4/20/96)
"As soon as you opened the bag, you saw a red toenail sticking through, and opened a little bit more, there was a whole foot,"
said one of the brothers at the time.
Fast forward to one year later, June 1997, when a hiker found a woman's dismembered body in a green plastic bin. This discovery was made about 40 miles away in Nassau's Hempstead Lake State Park.
This woman had her head and hands severed, according to investigators. They also pointed out a unique identifier - a heart-shaped peach tattoo on her breast.

Unfortunately, that would not be the last of the gruesome discoveries.

Archive Video: Remains discovered near a recharge basin not far from the LIE in Manorville (7/26/2003)

A woman's torso was found more than three years later in November of 2000 in the woods near Halsey Manor Road in Manorville. Then, in July 2003, a second torso was also discovered just a mile away.

The victim found in 2003 had another unique identifier - a wing tattoo on her lower right back.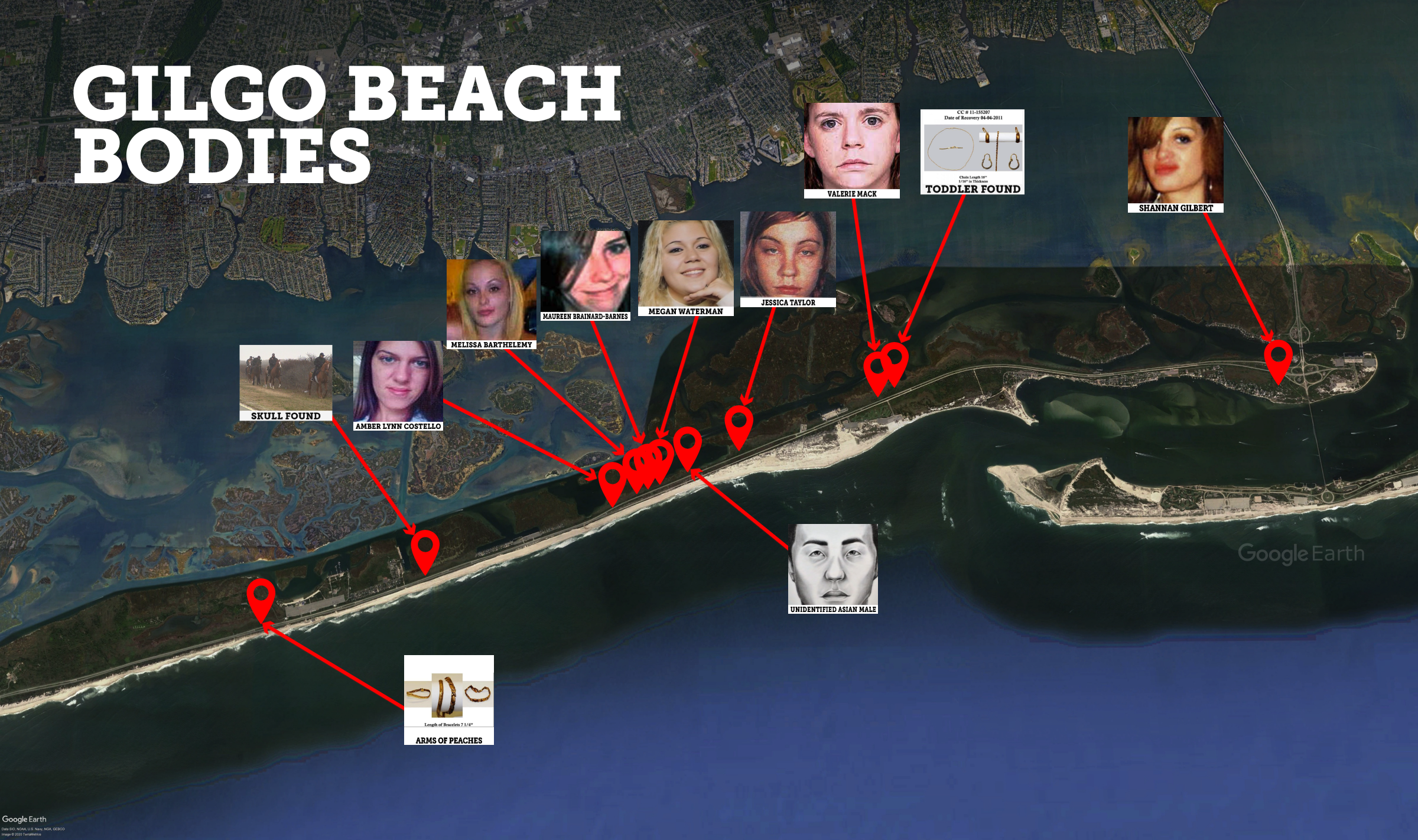 This map shows the location of the victims

Both victims had their hands and heads cut off.

At the time, investigators said they believed there was no link between the crimes. That thinking would change seven years later with discoveries along Ocean Parkway that would shake Long Island to the core.

News 12 Reporter Eileen Lehpamer and Photojournalist Greg Cannella discuss their experiences making the 'Gilgo Beach: Unsolved' documentary.

The first set of remains was found on Dec. 11 by a K-9 unit that police told the media was out on a training exercise.

"The dog gave me an indication, which means his tail started waving," said Police Officer John Mallia in 2010. "He started sampling the air. At that point, I saw the skeletal remains of the body."

The discoveries didn't end there. Three more sets of remains were found just four days later. Police say they were disposed of in a similar manner - dumped from a vehicle into the foliage where they couldn't be seen from the road.

Investigators believed they were dumped within the span of about a year and a half.
We could have a serial killer.
Then-Police Commissioner Richard Dormer publicly acknowledged a connection to the four sets of remains in a Dec. 14 news conference.
"Well look, I don't think it's a coincidence that four bodies are in this area," Dormer said at the news conference. "We're looking at that, that we could have a serial killer."
One more bombshell came out of that news conference - police weren't on a training exercise at all when the first set of remains was discovered. They were looking for someone.
Archive Video: Richard Dormer says 'We could have a serial killer' (12/14/10)

Police that day were looking for 24-year-old Shannan Gilbert, an upstate woman who was living in Jersey City. Gilbert vanished in May 2010 while working as an escort for an Oak Beach man. Oak Beach is a quiet, gated community located about 50 miles from New York City.




Commissioner Dormer tried to calm the residents of Oak Beach, and all of Long Island, at the time.

"I don't want anyone to think we have a Jack the Ripper running around Suffolk County with blood dripping from a knife," said Dormer. "Which might be the impression that some people might get. It's not that type of situation."

None of the four sets of remains found that day were Shannan Gilbert. They were identified one month later as sex workers who disappeared between 2007 and 2010.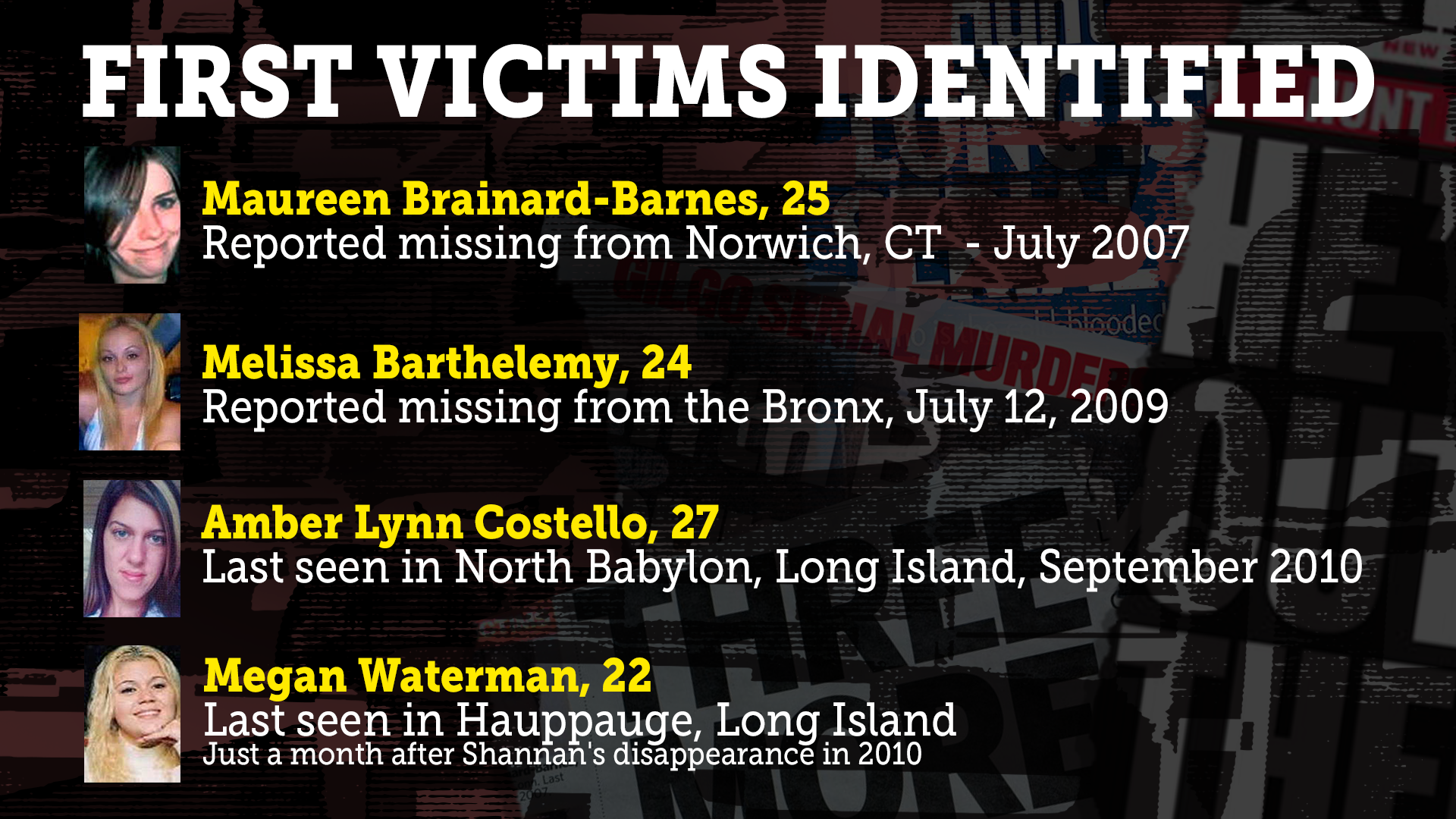 CONNECTING THE CASES
Shannan Gilbert's mother, Mari Gilbert, retained lawyer John Ray and put pressure on the Suffolk County Police Department for answers. The responsibility of that investigation was overseen by former Chief of Detectives Dominick Varrone. Varrone agreed to speak to News 12's Eileen Lehpamer earlier this year in a rare interview.
Varrone says no stone was left unturned in the search for Shannan Gilbert.

PHOTOS: The Gilgo Beach Serial Killer Case

"I do know we did an exhaustive search for Shannan that year, that whole year. K-9 searches, helicopter aerial searches, we involved the FBI," says Varrone. "At one point, almost an entire team of investigators flew up from the Behavioral Analysis Unit in Virginia."

Shannan Gilbert was eventually found one year after the initial discovery of the four sets of remains. While searching for her, 10 other sets of remains were found - including those of an Asian male and a toddler.




DNA linked some of the newly discovered body parts back to the four dismembered women from the late 90s and early 2000s. A skull found in Nassau - part of the woman whose legs were found on Fire Island. Arms - with gold jewelry - part of the woman with the peach tattoo. The toddler was determined to be her child. Finally, a head and hands - linked to the two Manorville torsos.

"Certainly we know the same person dismembered the two females, leaving the remains in Manorville," says Varrone.

In our interview, Varrone said "a lot of questions still remain, as to how many serial killers do we have? "

Varrone tells News 12 he is "much more a believer in the one killer theory", adding that he believes the killer "evolved" from the time of the late 90's and early 2000's when the bodies were being dismembered, to the 2007-2010 time frame when the victims were dumped intact.
SHANNAN'S FINAL MOMENTS
Shannan Gilbert was driven to Oak Beach by a man named Michael Pak on May 1 2010. The reason? She was hired by a resident named Joseph Brewer.
Her final moments are a cacophony of a frantic phone call and desperate pleas with neighbors in the quiet community.
First, there is a nearly 20-minute 911 phone call by Gilbert after she ran from Brewer's house. What was initially a 2-hour session was extended to a 4-hour session. However, something happens that sparks Brewer to want Gilbert out of his house.

After calling 911 she begins banging on doors. One resident describes her as being in a type of trance before she runs off.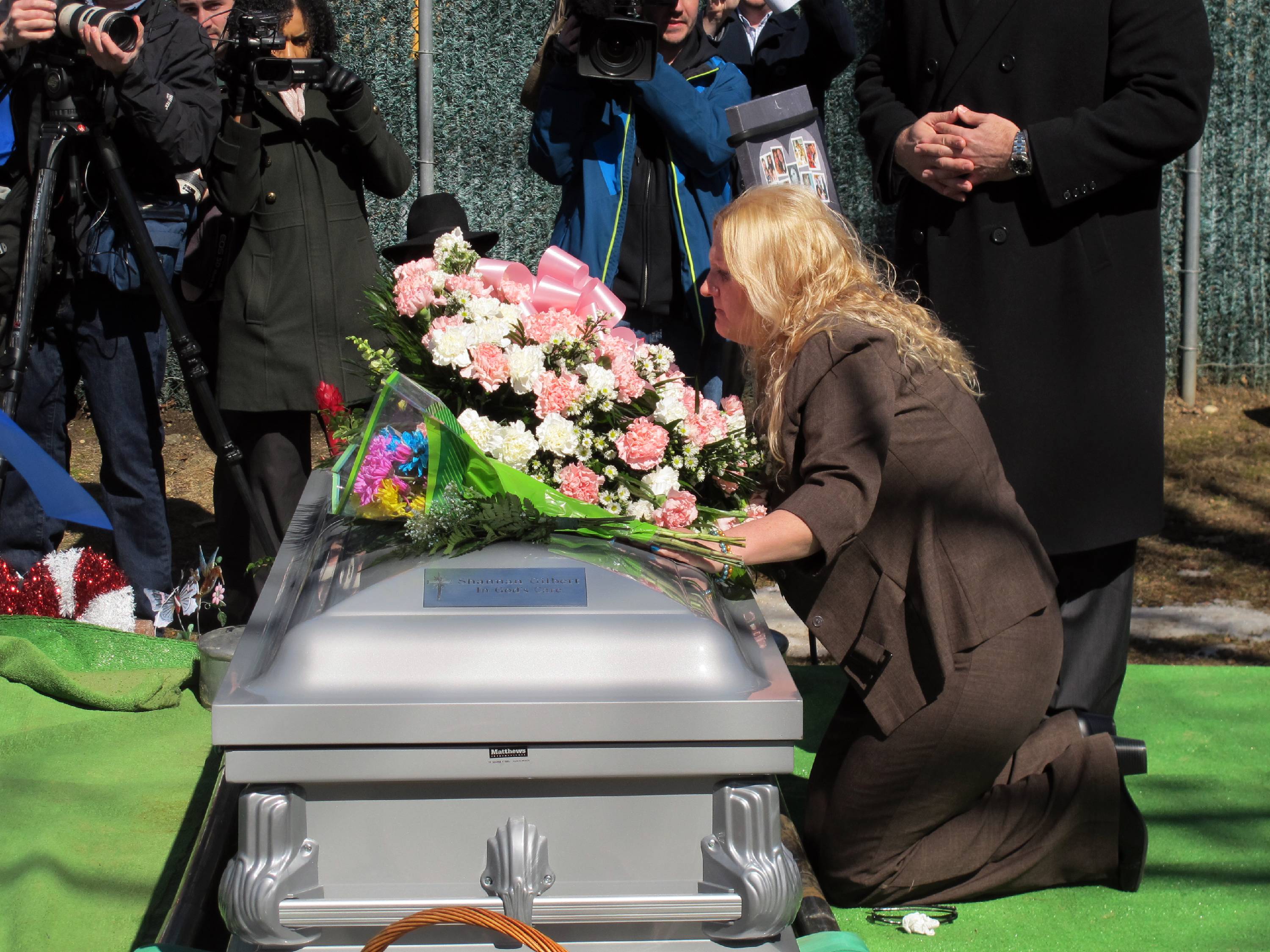 Mari Gilbert prays over the coffin of her daughter, Shannan Gilbett on Thursday, March 12, 2015. (AP Photo/Frank Eltman)

Varrone says Pak, knowing police are on the way, takes off. Police arrive at the scene but the units are not aware of the frantic 911 call. They may believe that the person causing the scene took off in the vehicle.

Had Pak stayed behind, he could have told them about Shannan so that police could have immediately started a search, says Varrone.
CLOAK OF SECRECY
Gilbert's autopsy was inconclusive. She could have been murdered or, as Richard Dormer once speculated, she could have drowned in the marsh.
For Varrone, answers would remain out of reach. Once James Burke was installed as chief of department, Varrone says he was pushed out and kept in the dark.
"Immediately after we were pushed out at the end of 2011, it kind of put a cloak of secrecy over the whole thing," says Varrone. "Which I think was not good, it inhibits public assistance."
We were pushed out at the end of 2011, it kind of put a cloak of secrecy over the whole thing.
The "Cloak of Secrecy" would start to get lifted with new developments in 2020.

SUSPICIONS AND SECRETS

The discoveries along Ocean Parkway and subsequent investigation drew local, national and international attention to the Long Island Serial Killer case. Amateur detectives have lit up internet forums with thoughts and theories on the killer's identity.

Some have even speculated that the police department silence under James Burke was part of a cover-up.

Burke was later arrested by the FBI and pleaded guilty to beating a man at a Suffolk police precinct in an unrelated case. Current Suffolk District Attorney Tim Sini eventually became commissioner, but held just one news conference on the Gilgo case in his tenure.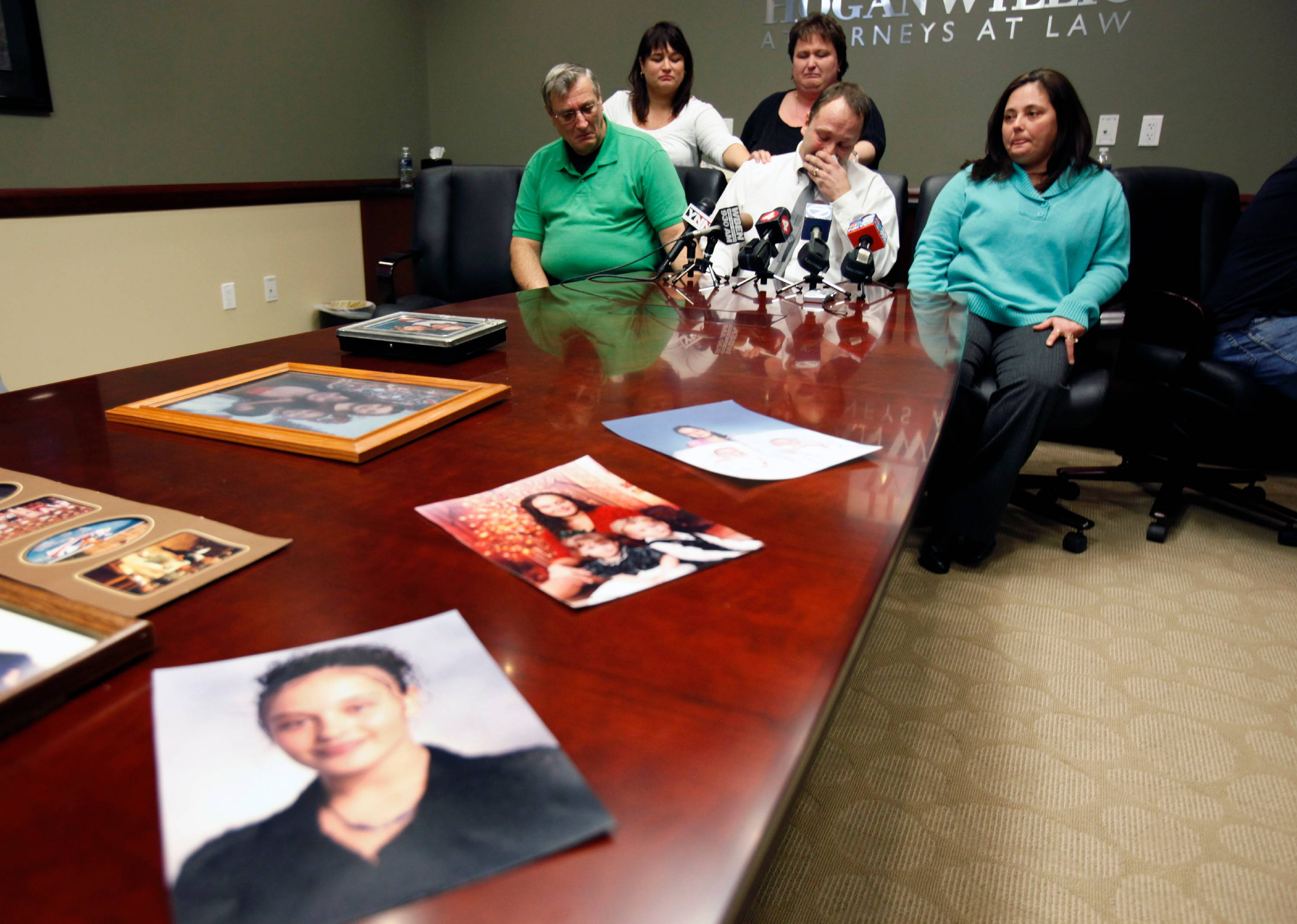 In this Jan. 27, 2011 file photo, family members Mark Szpila, front center, Elmer Barthelemy, front left, Lynn Barthelemy, front right, Dawn Barthelemy, back left, and Susan Szpila,
back center, speak about Melissa Barthelemy, pictured in family photographs on the desk, during a news conference in Amherst, N.Y. (AP Photo/David Duprey, File)

Enter current Suffolk County Police Commissioner Geraldine Hart. Her arrival seemingly has brought a new openness to the case and a willingness to engage the public about the investigation.

In January of 2020, Suffolk police released a new photo of a belt connected to the investigation. They also launched a new website dedicated to seeking the public's health in the case.

Under Hart, police have also identified one of the sets of remains as 24-year-old Valerie Mack.
A DIFFERENT STAGE
Hart sat with News 12's
Eileen Lehpamer
for an hour-long interview, the most access Lehapmer says she's had with a top investigator in the 17 years she's been covering the case.
So why now?
Hart says the investigation is now relying on the public.

Archive Video: Investigators identify 'Jane Doe #6' as 24-year-old Valerie Mack (5/28/2020)
"The decision was made, this is really a different stage we're entering now," says Hart. "We should really be relying on the public."
My viewpoint is that any investigation benefits having as many people at the table that can lend to the investigation.
Hart is no stranger to the case. In 2010 she was part of the FBI's Long Island field office when the original four sets of remains were found. She also says emphatically that the FBI was boxed out of the case from 2012-2015. She says she has no idea why.
"It's really, it's hard to know, you know? My viewpoint is that any investigation benefits having as many people at the table that can lend to the investigation," says Hart.

Extended interview with former Chief of Detectives Dominick Varrone

ACCUSATIONS

Burke, as mentioned earlier, was arrested and pleaded guilty to beating a criminal suspect. Former Suffolk District Attorney Thomas Spota was convicted of covering up for Burke. Jurors in that case heard testimony that Spota repeatedly backed Burke in his career even though he knew Burke had been caught having sex with a prostitute in a marked police vehicle.

Burke has never been named a suspect in the Gilgo case. Neither has Joseph Brewer, the individual Gilbert was at Ocean Beach to see the night she vanished.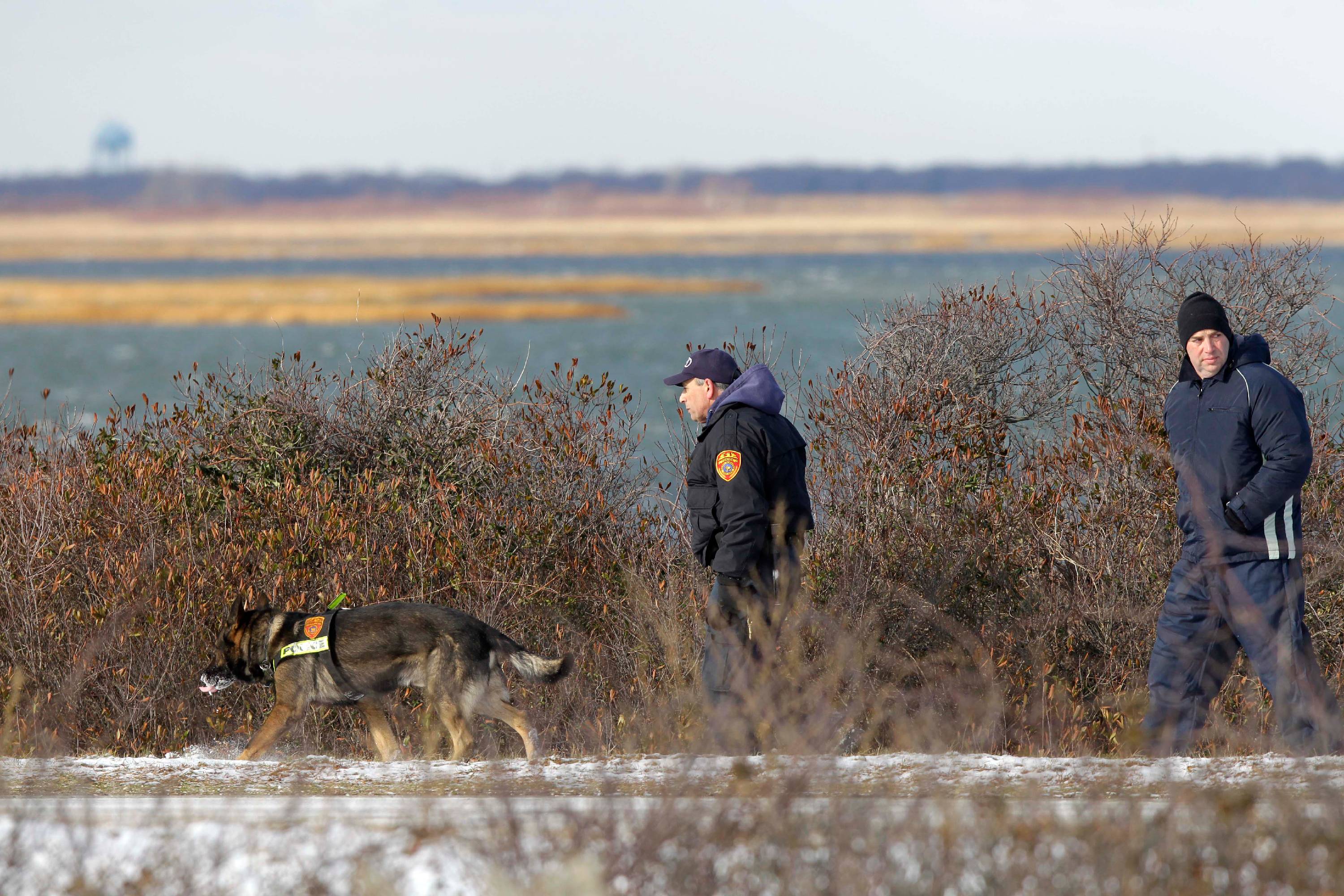 Authorities search in the brush by the side of the road at Cedar Beach, Tuesday, Dec. 14, 2010. (AP Photo/Seth Wenig)

The name Dr. Peter Hackett has also come up several times in the investigation. Gilbert family attorney John Ray has come out and said he believes Hackett is responsible for Shannan's death.

Hackett first came to the public's attention in 2010 when Mari Gilbert claimed he called her and said Shannan was fine and that he ran a home for wayward girls.

Though he denied that happened to News 12, phone records proved otherwise. He is still facing a civil lawsuit by the Gilbert estate.

Hackett's attorney, James O'Rourke, stands by his client and denies the accusations against him. "They're despicable," says O'Rourke. "Mr. Hackett, Dr. Hackett, has never killed anyone, and there is no evidence linking him to the death of this poor girl."
THE 911 CALL
Attorney John Ray battled with the Suffolk Police Department to eventually get access to Shannan Gilbert's 911 call. He did, but only after multiple attempts resulting in an order to turn the tapes over in March of 2018.
Although he has the tapes, he is not allowed to share them with the public. This past November
a judge denied
a request to make the tapes and transcript available to the public.
"The tapes and the transcripts will be used against what the police said occurred on that fateful night," Ray said after the denial last month. "Those tapes are shocking. Those tapes will be very disturbing to the public."
However, he is not allowed to share information about what is on that tape.
Former Chief of Detectives Varrone says the tapes are "dramatic" and "compelling."
Those tapes are shocking. Those tapes will be very disturbing to the public.
"I strongly believe, based on the background sounds and listening to that tape, over and over again, that she's just irrational and she was just in an irrational emotional state," says Varrone. "And I don't think that someone was trying to kill her, it cannot be ruled out."

It all begs the questions, when will the case be solved and are there suspects?

"No, we do not have a suspect now," says Commissioner Hart. "But I do not comment on whether somebody was, or somebody wasn't a suspect, so that's something I won't go into, but we certainly don't have someone we're looking to arrest anytime in the immediate future."
Extended interview with Suffolk Police Commissioner Geraldine Hart
PICKING UP THE TRAIL
As time moves on, key figures in the case have passed away.
Witness Gus Colletti passed away. Mari Gilbert, Shannan's mother, was tragically killed by another one of her daughters in 2016.
With the passage of time, the ability to solve the case could become more difficult.
Investigators say the public will play a huge role in helping to solve the case.
"We need to give them information...the hope is something triggers inside them," says Police Commissioner Hart.
Perhaps the killer himself could come forth. Maybe it's about time he does that.
Former investigator Varrone says if the killer is alive, and not in jail, that it is time to come forward and put an end to gnawing questions in this tragic case.
"Perhaps the killer himself could come forth," says Verrone. "Maybe it's about time he does that."

Project Credits:
Gregory Cannella: Photographer/Editor

James DiGregorio: Lead Senior Network Designer

Colleen Harrington: News 12 Digital Managing Editor

Timothy Ivers: Archival Video Editor

Eileen Lehpamer: Reporter

Frank Pokorney: News 12 Digital Executive Producer

Chris R. Vaccaro: Vice President, News 12 Digital