A Disturbing Trend

Swastikas painted on buildings, a Mexican woman beaten and left for dead and verbal threats shouted by drivers on the road.

These are just some of the approximately 2,300 recently documented acts of hate hurled toward specific groups in the tri-state area.

Hate at Home: A Team 12 Investigates Special Report
News 12 has compiled, researched and gathered hate-crime data that shows disturbing incidents of hate at a time when the country seems more divided than ever. The incidents have left a deep impact on individuals and communities in New York, New Jersey and Connecticut.

Statistics researched for this project show the Jewish community to be among the most common target of hate. However, the incidents overall impact a wide range of victims from a variety of backgrounds.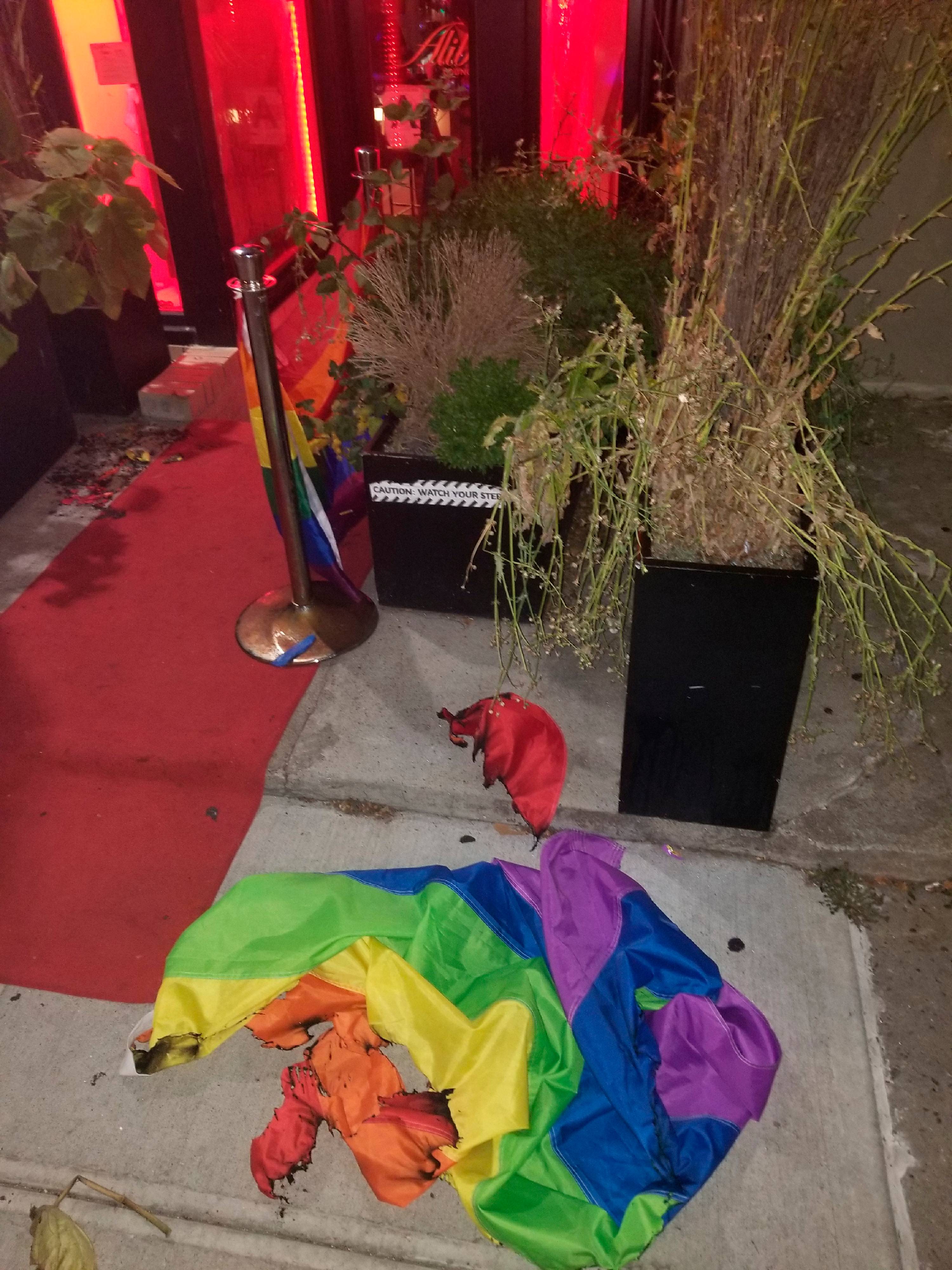 A burned rainbow flag lays on the stoop of the Alibi Lounge, early Monday, July 8, 2019, in New York City. (Alexi Minko via AP)

Hatred Among Friends

A 12-year-old Norwalk boy is publicly recounting an anti-Semitic attack inside a hockey locker room for the first time since the incident.

Video: An 'Ugly and Unfair' Incident
Alex Frey loves to play the card game Pokémon, and he also enjoys playing hockey.
But his experience playing the two games are drastically different.
Frey recalls being the victim of an anti-Semitic attack that occurred inside the locker room after one of his hockey games, and the attacker was a teammate who was supposed to be a friend.
"Do they seriously have a problem with Jews or with whomever or are they just angry?"
Frey says after the game, the teammate approached him and told him, "The team and everything would be better if your ancestors were just killed during the Holocaust."
Frey says he could not believe what had happened. He says he was floored.
Frey's father, Steve, is still trying to understand why someone would say that.

"Do they seriously have a problem with Jews or with whomever or are they just angry?" Frey's father says.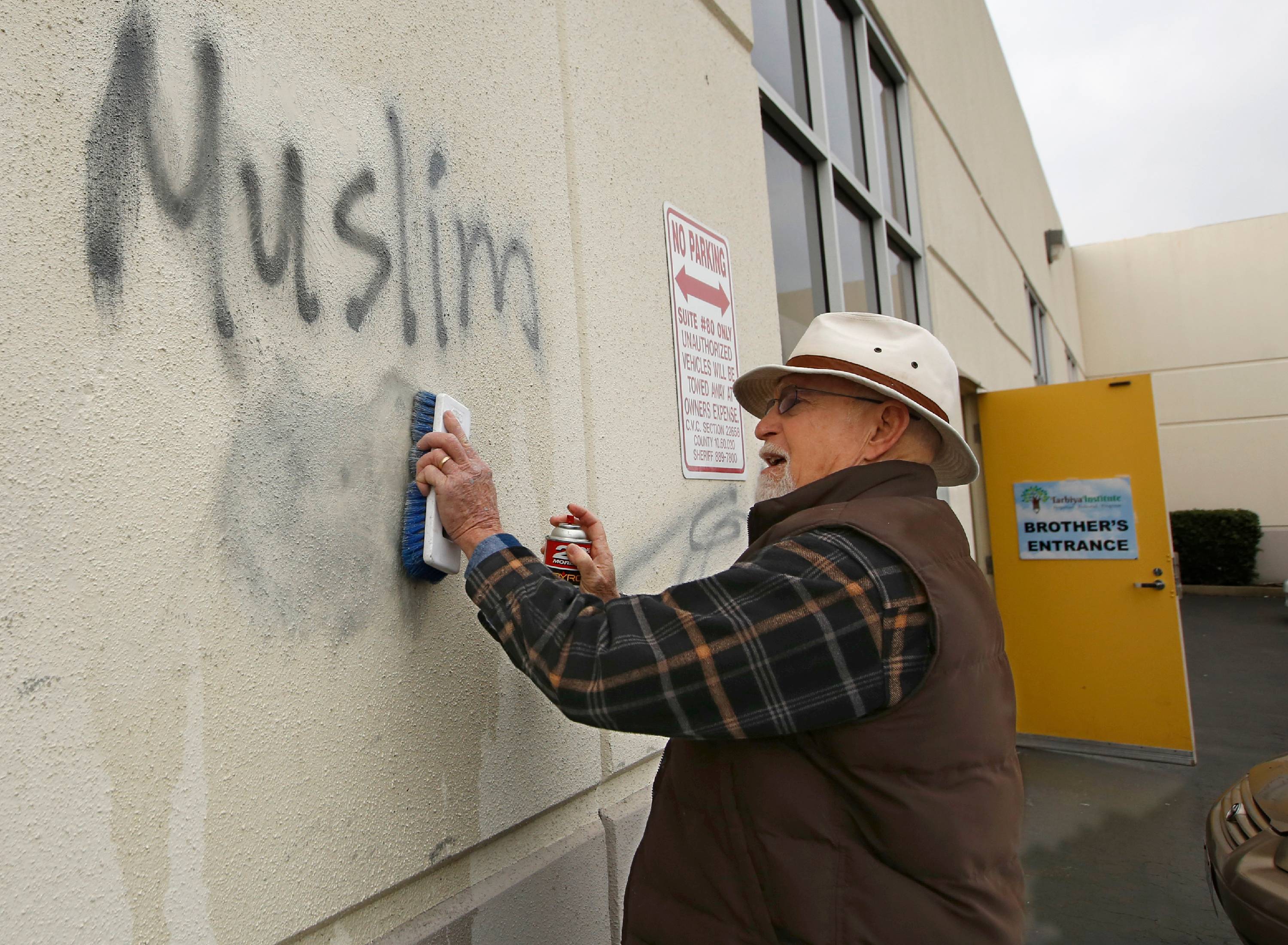 Tom Garing cleans up racist graffiti painted on the side of a mosque in what officials called an apparent hate crime, in Roseville, Calif. (AP Photo/Rich Pedroncelli)
Frey told his rabbi about the incident, and she praised him for telling others about it.
"It's really ugly and unfair that somebody would take advantage of that to hurt him. I'm really proud that he didn't keep it to himself. He told his parents, he told his coach, and he came and talked to me," says the rabbi.
According to the 2017 FBI Hate Crime Statistics in Connecticut, there were 60 incidents involving race, ethnicity, and ancestry with 8 percent of the incidents occurring in Bridgeport.
There were also 23 religious hate crimes and 17 percent of them happened in Trumbull.
News 12 compiled a database on hate crime stories we covered since 2017.
Of those 85 stories, Stamford had the most.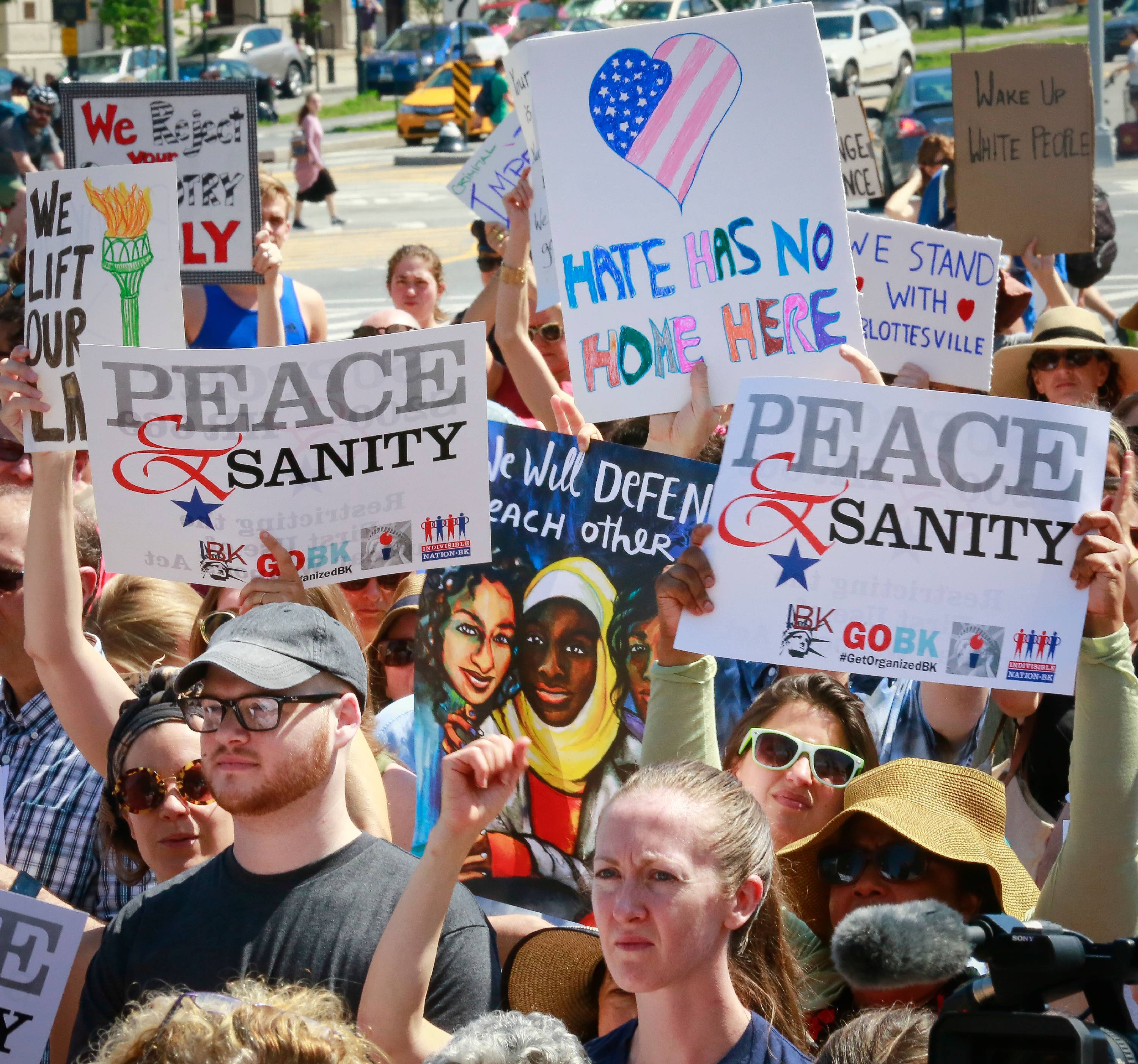 Protesters listen during a "Peace and Sanity" rally in Brooklyn. (AP Photo/Bebeto Matthews)
Last Oct. 11, people were killed during a mass shooting at the Tree of Life Synagogue in Pittsburgh, Pennsylvania and that has changed the way Frey and his family worship at Congregation Beth El in Norwalk.


People feel emboldened to say more hateful things now and to carry out hate crimes.
Rabbi Ita Paskind says many changes have been implemented since the fatal shooting in Pittsburgh.
"We have security protocol at our temple that was never there before. The doors are locked now too. We have to pay Norwalk police to be stationed at our building during the services," Paskind says.

Paskind says the problem today is that many people's values have changed.
"People feel emboldened to say more hateful things now and to carry out hate crimes," paskind says.
Paskind says education and embracing diversity is important to deter future hate crimes, and some of this world's ugly past.
"I hope we never see anything on that scale of hatred ever again."



Project Credits:
Dave Feuerman: News 12 Connecticut Assistant News Director
Lori Golias: Editor/Photographer
Syed Imam: Developer
Jay Lederman: News 12 Digital Producer
Frank Pokorney: News 12 Digital Executive Producer
Manoj Shamdasani: Vice President, Local News
Rose Shannon: News 12 Connecticut Assignment Desk Editor
Mark Sogofsky: Editor/Photographer
Mark Sudol: News 12 Connecticut Reporter
Keith Sunthorn: Editor/Photographer


Chris Vaccaro: News 12 Digital Vice President