A Disturbing Trend

Swastikas painted on buildings, a Mexican woman beaten and left for dead and verbal threats shouted by drivers on the road.

These are just some of the approximately 2,300 recently documented acts of hate hurled toward specific groups in the tri-state area.

Hate at Home: A Team 12 Investigates Special Report
News 12 has compiled, researched and gathered hate-crime data that shows disturbing incidents of hate at a time when the country seems more divided than ever. The incidents have left a deep impact on individuals and communities in New York, New Jersey and Connecticut.

Statistics researched for this project show the Jewish community to be among the most common target of hate. However, the incidents overall impact a wide range of victims from a variety of backgrounds.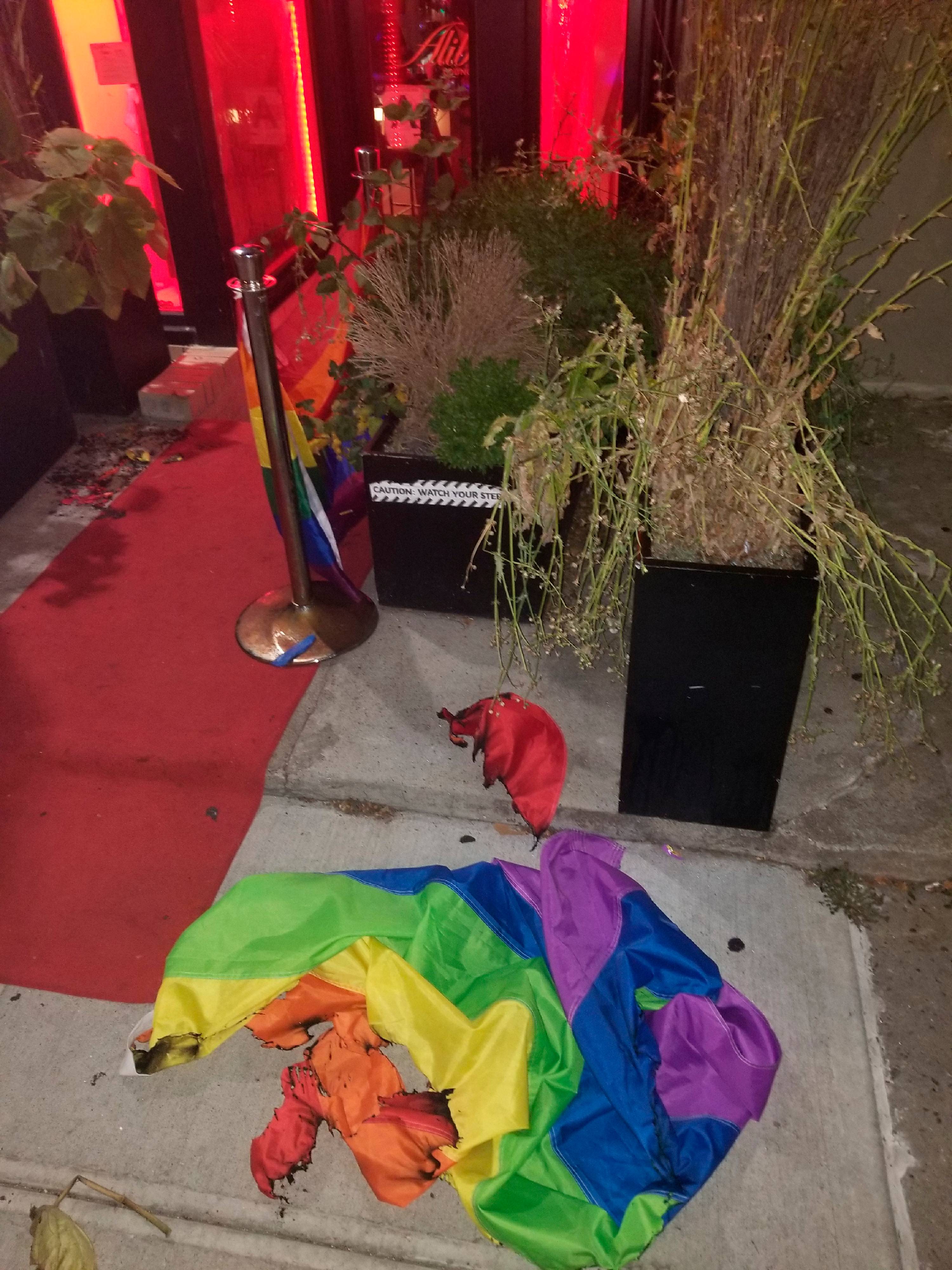 A burned rainbow flag lays on the stoop of the Alibi Lounge, early Monday, July 8, 2019, in New York City. (Alexi Minko via AP)

Hate incidents on the rise?

Incidents of hate seem to be in the headlines almost every week -- a swastika scratched into a sidewalk in Oceanside, KKK stickers on poles in Bay Shore, a lesbian woman who was physically assaulted in Patchogue.

But while it may seem like we're always hearing about bias incidents, are hate crimes actually increasing on Long Island? It turns out that question is not easily answered.

Video - The Impact on Victims:
News 12 requested statistics from several police departments under the Freedom of Information Law. We asked for all the potential bias incidents reported to police from 2016 to the middle of this year -- not just those categorized as confirmed hate crimes.
Jews are sort of the canary in the coal mine, and sadly whenever Jews are targeted, the people behind it don't feel very positive about other communities as well.
The Suffolk County Police Department data revealed that in 2016, its Hate Crime Unit examined a total of 276 potential bias incidents. In 2018, that number rose to 322. The Nassau County Police Department investigated 60 potential bias incidents in 2016, but only 40 in 2018. However, by mid-year 2019, the Nassau Police Department already has a total of 50 possible incidents. News 12 also asked the police departments to further break down the data by clarifying how many of those incidents were anti-black, anti-Hispanic or anti-LGBTQ.
Interview: Lt. Gail Morerro - Suffolk County Police Department
News 12 shared the statistics with Richard Priem, an associate regional director with the Anti-Defamation League. He says he's not surprised at all to see that in both counties, Jewish people were most often the targets of bias incidents.
LINK:
ADL Hate Crime Database
"In 2018, sadly, across the U.S., anti-Semitic incidents remained at historically high levels," says Priem. "Jews are sort of the canary in the coal mine, and sadly whenever Jews are targeted, the people behind it don't feel very positive about other communities as well."
Interview: Richard Priem - Associate Regional Director, ADL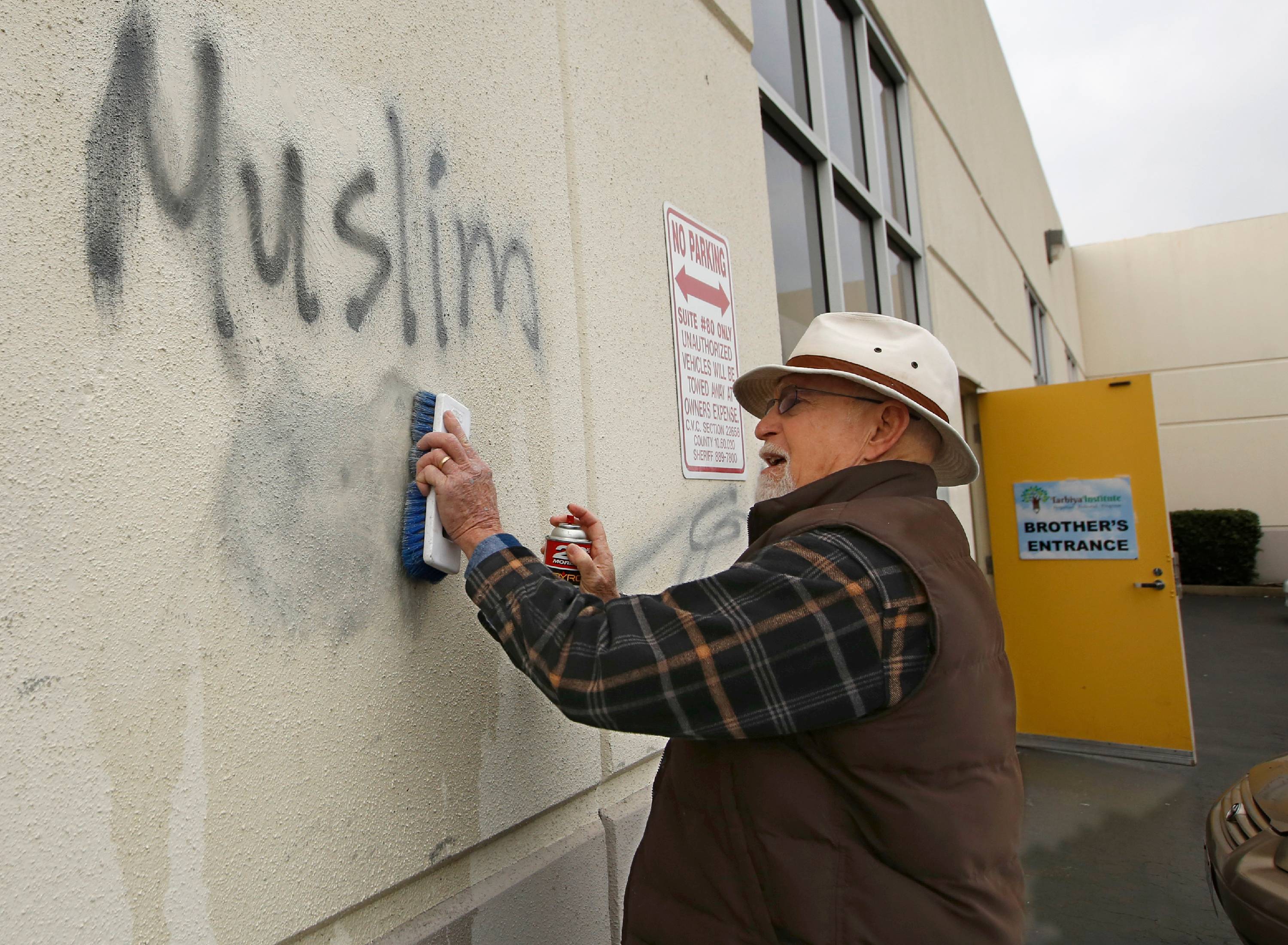 Tom Garing cleans up racist graffiti painted on the side of a mosque in what officials called an apparent hate crime, in Roseville, Calif. (AP Photo/Rich Pedroncelli)
After anti-Semitic attacks, the stats show that anti-black incidents were the second most frequent in both Nassau and Suffolk, followed by anti-LGBTQ in Suffolk. Anti-Hispanic was the lowest - with either none or just one reported. Priem says it's important when you look at any data to also consider what is not there.
"I think it's fair to say that under-reporting is a huge issue, and it doesn't take a lot of imagination to realize that if there's a community where someone doesn't have the right documentation for example, that they might be more hesitant to report an incident that happened to them," Priem says.
The Suffolk County Police Department says it's aware of the issue of non-reporting. It says it has made it a point to do community outreach -- and to keep officers trained.
Priem says that is important.
"We need to respond, we cannot let it simmer on, because if you don't nip it in the bud at the first signs this is taking place, it can escalate into worse and worse incidents," Priem says.
Hate in their eyes
At age 14, Devin Moore recalls what it feels like to be targeted by racist bullying.
He says he received images online last year from three white classmates at his East Islip grammar school. The images depicted a noose, the KKK and his head -- with a gorilla suit on and a gun pointed at him.
"I thought they were going to do a school shooting, not only hurt me but hurt the other black kids at my school," says Moore.
His mom says it was affecting his daily life. "He wasn't sleeping, he wasn't eating correctly," recalls Ursula Moore.
Moore and his mom immediately turned to school officials and the police. But they soon learned that despite a police investigation, no criminal charges were filed against the three teens who allegedly sent the disturbing images.
Video - The Burden of Proof:

As part of our News 12 Investigates: Hate at Home series, News 12 requested statistics on all bias incidents reported to police on Long Island over the last few years. The data provided under the Freedom of Information Law shows that anti-black bias incidents are the second highest type of incidents reported to both the Nassau and Suffolk police departments. So far this year, there have been six in Suffolk and 13 in Nassau.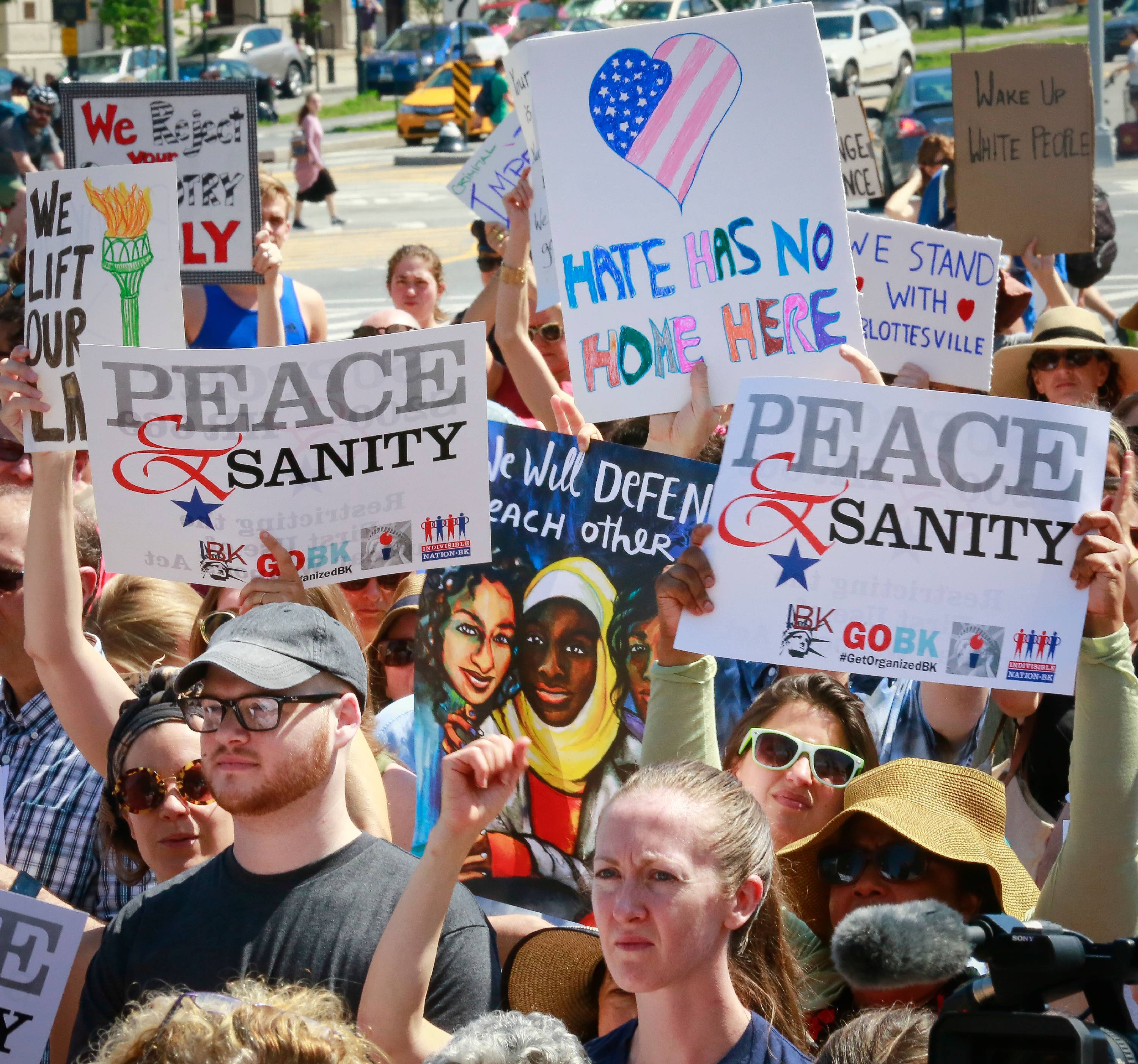 Protesters listen during a "Peace and Sanity" rally in Brooklyn. (AP Photo/Bebeto Matthews)

But not all incidents that involve hateful or seemingly biased language rise to the level of a hate crime. Some things are protected by freedom of speech and others don't meet the criteria set by New York state law.

In 2018 in Suffolk, for example, there were 249 incidents investigated by the Hate Crimes Unit, but only 52 were categorized as hate incidents and only 21 could be prosecuted as hate crimes under state law.

News 12's Eileen Lehpamer sat down for an interview with Dt. Lt. Gail Marrero, the commanding officer of the Suffolk County Police Department's Major Case Section. She explained the difference between a hate crime, an "incident" and everything that falls into the "other" category.

Interview: Ursula Moore - Hate Victim's Mother
"A hate crime is something that is enumerated in the New York state penal law in 485," says Marrero. "The victim is intentionally selected because they belong to a protected class."
So, for example, if an elderly person is robbed, police need to determine if they were chosen because they're an easy target, or if the suspect's main motivation was hate for the elderly.
And when it comes to hateful symbols like a swastika etched into a sidewalk, Marrero says it doesn't fall within the statue as hate crime. Instead it would be a "hate incident."
And as for KKK fliers on light posts, or other biased language -- "If someone uses a racial epithet, at someone, it's not illegal," according to Marrero.
I do think the laws should be different to make it easier to prosecute.
The Anti-Defamation League is one of the organizations that keeps track of all reports of hateful incidents -- no matter how they're categorized under the law. It says that even if it's not criminal, it can still be severely harmful for the people that are targeted.
Interview: Devin Moore - Victim

Ursula Moore agrees. "I do think the laws should be different to make it easier to prosecute," she says.

Devin Moore has started an anti-racism and anti-bullying initiative in his new school and on social media, known as Race to Speak UP.

"You shouldn't be hating on someone because of who they are," he says.



Project Credits:
Michael DeMita: Photographer
Anthony Florio: Photographer
Colleen Harrington: News 12 Digital Managing Editor
Syed Imam: Developer
Eileen Lehpamer: Reporter
Frank Pokorney: News 12 Digital Executive Producer
Michelle Romano: Planning Editor
Tara Rosenblum: Investigative Reporter
Dan Scaturro: Editor
Manoj Shamdasani: Vice President, Local News
Drew Singh: Photographer
Alain Tingue: Chief Photographer
Chris Vaccaro: VP, News 12 Digital
James Whiteman: News 12 Long Island News Director